Happy, supported staff are more likely to work hard and stay loyal to your business. And good HR management is critical to their success.
WhosOffice is the quick, flexible way to coordinate all your HR activities online, in one place. Via the web-based portal (available anywhere with an internet connection) or WhosOffice mobile app.
Our online HR module is designed to make life simpler, while helping you to build a strong company culture:
Manage HR action centrally for complete compliance and accountability
Create online staff records that can be updated by HR, management and employees
Assign tasks to individual or multiple case handlers and track their progress
Share actions, updates and documents with multiple people in one click
Send email or push notification reminders when tasks need to be started or completed
Create HR policies using WhosOffice case templates
Try WhosOffice for free to find out more.
The modern, secure way to manage company HR
Security is top of our agenda.
WhosOffice uses the latest hardware and encryption technology to keep your sensitive data safe. Whether you're an SME using HR management tools for the first time, or a major enterprise upgrading your HR software.
Our platform is cloud-based. So you can complete tasks and monitor progress from the office or working remotely – knowing it's totally secure.
Here's some of the HR tasks you can manage online through WhosOffice:
Put people in charge of their own HR record
Take the strain of managing staff information off HR and management's shoulders:
Give everyone access to maintain and update their personal information – with the option to leave out any details they don't feel comfortable sharing
Restrict what information people can view, so they only see what's relevant to their role
Assign documents, tasks and cases to team members or departments – and set deadlines for completing them
Create a shared emergency contact details list that everyone can access instantly
Encourage staff to download the WhosOffice app and manage their HR data on-the-go
Help new recruits to hit the ground running
Create a slick, efficient system for embedding new starters into your team:
Build step-by-step HR workflows for managing the onboarding and induction process
Create staff profiles with photographs to easily identify team members
Assign tasks and welcome sessions to colleagues, mentors and managers – which they check-off online once completed
Set follow-up actions to support long-term success, such as scheduling quarterly reviews 3 months from people's start date
Keep a complete record of your skills and competencies
View capabilities across your business and find the right people to fill skills gaps:
Record training and certifications – such as who's first aid qualified or has a driving license
Track industry-critical qualifications to make sure you're running a compliant operation
Set reminders before certifications expire to arrange renewals and further training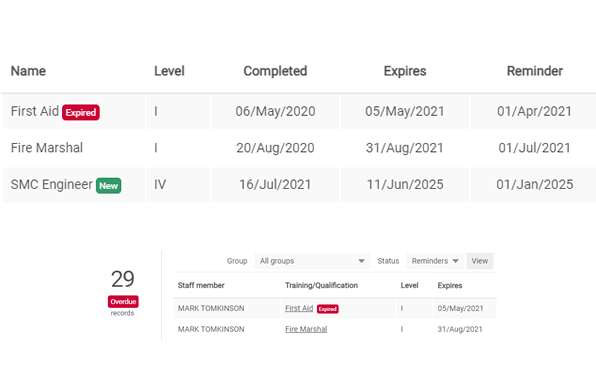 Nurture staff success
Make sure every element of employee wellbeing and career development runs smoothly:
Schedule staff appraisals and manage meeting prep and development points
Coordinate overtime and annual leave requests, creating an approval workflow to ensure they're signed off quickly
Manage employee grievances, attaching evidence to each case and setting follow-up actions for a quick, effective resolution
Coordinate staff benefits – such as cycle to work schemes, gym membership, medical cover, life insurance and pension contributions – documenting when people are eligible for perks, who's signed up and when they expire or renew
Create clear, compliant audit trails
WhosOffice knows how stressful auditing can be, so we've created tools that make compliance simpler:
Store every HR document in the same place, so your team knows where to find them
Share policy and process changes with the whole company in one click
Ask staff to confirm online when they've read documents and updates
Remind colleagues when tasks are due to keep workflows moving in-line with company policies and meet compliance deadlines
Share your achievements
WhosOffice's digital dashboard makes it easy to visualise performance and report success:
View all your live HR cases and next steps at-a-glance
Track important company data including diversity, annual leave trends and average length of service
Export information via PDF report or excel spreadsheet to share with your colleagues
---