At last there is light at the end of the lockdown tunnel, with the UK government unveiling its roadmap out of pandemic restrictions. But while people are celebrating the thought of reuniting with friends and family, there's something else for business owners to consider: what does this mean for the office return?
The next few weeks and months will be a major learning curve for employers, as the world adapts to a 'new normal' after COVID-19. To help your employees readjust to in-person working, here are three questions all senior leaders should be asking:
1. Do your team members WANT to go back to the office?
After many months at home, some employees will be keen to return to the office environment. Cramped living spaces, loud housemates and unreliable internet connections can make remote working a real test of strength.
On the other hand, you may have team members that feel anxious about in-person working. Many will still feel the threat of COVID-19, especially if they haven't yet had the vaccine. Others will simply enjoy working at home and feel it enables them to be more productive.
In the short-term at least, your business may benefit from a flexible working policy. Staff can go into the office if they feel willing and safe to do so, but know that you'll continue to support them remotely if that's their preferred option.
2. Can you maintain social distancing in the workplace?
For those people keen to come back to their old desk, there needs to be a clear policy in place for maintaining social distancing. COVID-19 might be in slow decline, but it hasn't disappeared altogether, so companies have a duty of care to keep your workforce safe.
Many business owners have reimagined the office to make it COVID-safe – increasing the space between workstations, introducing one-way entry and exit systems, and giving staff their own hand sanitizer. But there's more you can be doing to protect people's health.
For example, can you run people's days in a shift pattern, to limit the number of employees in the office at any one time? Or introduce a staggered start and end to the day, to avoid people bumping into each other at the entrance?
Smart timekeeping is key to social distancing – and you can make easy work of shift planning if you invest in online rostering software to manage people's schedules. The best solutions also allow you to incorporate employee holiday alongside shift patterns, so you can calculate social distancing capabilities based on a full, accurate picture of who's going to be in the office each day.
3. How can you manage a hybrid workforce?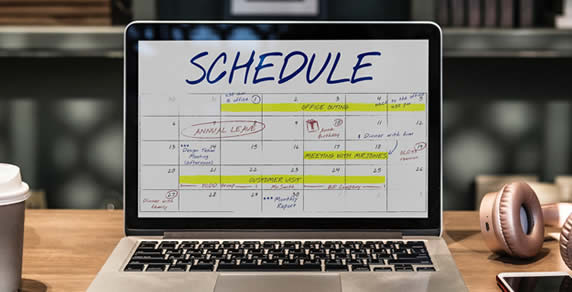 With staff on staggered starts and some still working from home, it's going to be a tricky spring and summer adjusting to a hybrid working model.
In addition to finding a shift pattern that enables people to social distance in the office, your company needs to help team members collaborate while working at different times and across different locations.
One of the simplest ways to keep business flowing during this adjustment period is to invest in online task planning, in order to centralise workload and keep people on-schedule. Senior personnel can map out what needs to be done each day and assign jobs to staff members, so they can follow a daily roster.
Even better, if the shift planning software you're looking at has a built-in task management feature, you can assign work based on each person's location. For example, if certain tasks can only be completed by people working in your office, you can use your online planning system to make sure that item isn't allocated to someone working from home.
Support your team through a period of change
At lot will change over the coming months, but hopefully for the better. After a year of lockdowns and social restrictions, many of us are looking forward to returning to familiar working practices.
For employers, the best way to navigate the upcoming challenges is to listen to employees and be sensitive to their needs. Also, providing a COVID-safe work environment for those who feel ready to go back to the office.
Investing in staff management technology will help you to give people the space they need to work safely, at the same time as coordinating essential tasks. Regardless of whether your team is sitting at their desk in the office or working from their dining table, they will have the visibility and collaboration tools needed to do their job effectively.
WhosOffice is an online shift planning platform that empowers businesses to work more flexibly. Plan schedules, share the latest rota, centralise your holiday calendar and coordinate daily tasks through our digital staff management software.
Book your free WhosOffice trial to find out more.
FREE TRIAL
Try WhosOffice for free before you sign up – no credit card required
EXPERT SUPPORT
We offer telephone and email support to our customers, at no extra cost

NO CONTRACTS
Cancel when you like with just 30 days' notice
NO HIDDEN COSTS
We don't believe in add-on charges or set-up fees
Book your Free WhosOffice Trial
Photo by Tima Miroshnichenko and Tim Mossholder of Pexels.com.
Comments are closed for this article.